CarolAT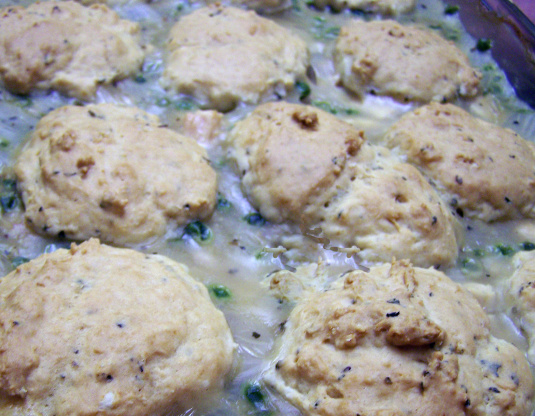 This recipe is great for those chilly winter nights! It is a staple for our house in the winter months.

This is comfort food at its best. This recipe is easy to fix and the blended tastes of the chicken, veges, and drop dumplings are fantastic. I added a bit more broth to the mixture before putting it in the oven because mine seemed a bit too thick. Thanks for sharing your recipe. Made for Fall PAC 2008.
In a large saucepan, saute onion, celery, and garlic in butter until tender.
Add flour, sugar, salt, pepper, basil, and broth; bring to a boil.
Cook and stir for one minute; reduce heat.
Add peas and cook for 5 minutes, stirring constantly.
Stir in chicken.
Pour into a 9 x 13 baking dish.
For dumplings, combine Bisquick and basil in a bowl. Stir in milk with a fork until moistened.
Drop by tablespoonfuls onto the casserole. (12 dumplings).
Bake uncovered at 350 for 30 minutes. Cover and bake another 10 - 15 minutes.