Chicken and Cornbread Casserole (Thanksgiving Anytime!)
twissis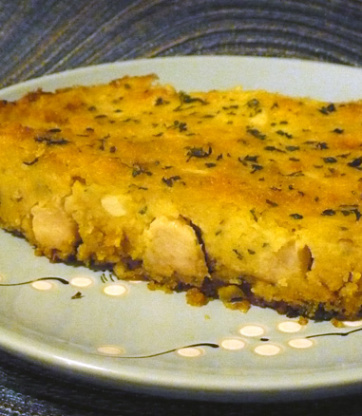 This recipe combines the ingredients of my Mom's dressing, and turns it into a casserole for anytime of year. Bring Thanksgiving into your home anytime of year! Cooking time does not include cook time for the cornbread or chicken...if making it at the same time, increase the cook time by 25 - 30 minutes. If you'd like you can use 2/3 cornbread and 1/3 biscuits.

This is definitely worthy of making yr-rd vs once a yr as Thanksgiving leftover fare & was made entirely from scratch for your Football Pool win. After making the cornbread, I sauteed the onion, celery & chicken together. Then I mixed them w/the crumbled cornbread, made the sauce as directed & gave the mixture a bit of a stir B4 baking (which I recommend). Using all cornbread gives it a distinctly spec flavour & the sauce adds richness w/o being overly so. This could easily be expanded by adding mushrooms or a veggie of choice. Served w/a cucumber salad & fruit, a half recipe was 2 meals for 2 of us, but it did tend to become dry for the 2nd meal. Congrats on your FB Pool win & thx for adding a new choice to our "favourite recipes collection". :-)
Combine the cornbread, 1/2 cup melted butter, minced onion, parsley, celery, 3/4 tsp salt, poultry seasoning, and black pepper in a large bowl; toss gently with a fork. Spoon the cornbread mixture into a greased 13 x 9 x 2 inch baking dish. Arrange the chopped chicken over the cornbread mixture and set aside.
Melt 1/4 cup butter in a saucepan over low heat; add the flour and salt, stirring until smooth. Cook for 1 minute, stirring constantly. Gradually add the chicken broth; cook over medium heat, stirring constantly until the mixture is thoroughly heated.
Combine the milk and the eggs, stirring well. Gradually add the milk mixture to the chicken broth mixture; cook over low heat, stirring constantly, until the mixture is thickened and bubbly.
Spoon the sauce over the chicken. Bake at 375 degrees uncovered for 45 minutes or until the mixture is thoroughly heated.