Chicken and Coconut Soup (Thailand)
Jubes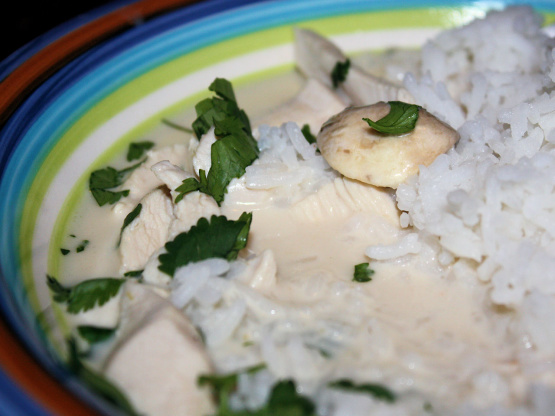 This recipe comes from the 2005 cookbook, The Best Recipes in the World.

Yummy! I'm sitting and enjoying this soup as I write the review, and I have to keep stopping to take another bite. This has my favorite Thai flavors- coconut milk, lime juice, and fish sauce; which makes this taste just like my favorite curry. I love how the gentle poaching leaves the chicken so moist and tender; and how the pepper flake gives a gentle bite to the creaminess of the coconut milk. I found that I didn't need any extra salt or pepper, the fish sauce added enough salt for my taste. This is perfect as is; if I felt the need for more vegetables in my meal, I'd add a few sliced snow peas, but otherwise, just perfect. Thanks for a lovely lunch!
1

quart coconut milk

1

cup chicken stock

1

lb chicken breast, boneless, skinless, cut into 1-inch strips

3

lemongrass, stalks trimmed, smashed, cut into 2-inch lengths
3⁄4 inch fresh ginger, cut into 10 slices

1

teaspoon red pepper flakes

4

fresh lime leaves, fresh, roughly chopped

1

cup button mushroom, sliced

3

tablespoons fish sauce (nam pla)

3

tablespoons lime juice, fresh

1

teaspoon granulated sugar

1

dash salt

1

dash pepper
1⁄4 cup fresh cilantro leaves, chopped (optional)
In a large saucepan, combine coconut milk & chicken stock, bringing to a boil over medium-high heat. Lower the heat, add the chicken pieces & simmer about 10 minutes or until cooked through. Remove chicken with a slotted spoon & set aside.
Add lemongrass, ginger, chile & lime leaves & simmer for 15 minutes.
Remove larger pieces of spices with a slotted spoon, then return the chicken to the saucepan, along with the mushrooms & heat through, about 3 minutes.
Turn off the heat & stir in the fish sauce, lime juice & sugar, then season with salt & pepper, before garnishing with the cilantro, if desired.