Chicken and Chickpea Patties
Jubes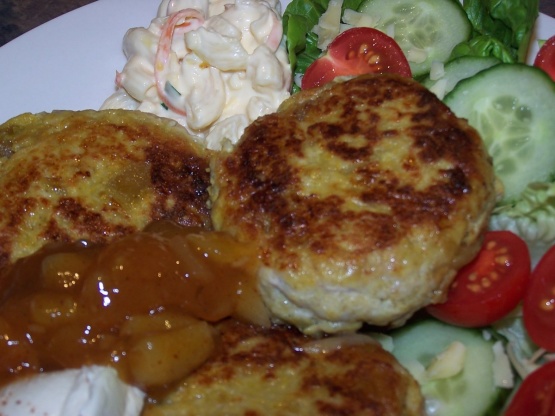 Quick and simple to make. A great way to add some variety to the childrens' diet. Great either with a salad, veges or made into a burger. This recipe is from Edgell's. To make this dish gluten free ensure your spices, chutney and curry powder are all labeled as gluten free. I found these to be crumbly so added an egg and flour for binding.
Using a food processor, finely chop the chickpeas. Combine with the chicken, chutney, spring onions, curry powder and seasoning of salt and pepper to taste.
Shape into patties using a 1/3 cup measure.
Place the patties on a lightly oiled barbecue plate and cook approx 4 minutes each side or until cooked.
NOTE:You can cook these patties in your fry pan or grill them. Serve with veggies, salad or on a burger with some more chutney and chopped cucumber.