Chicken and Chickpea Bake
JustJanS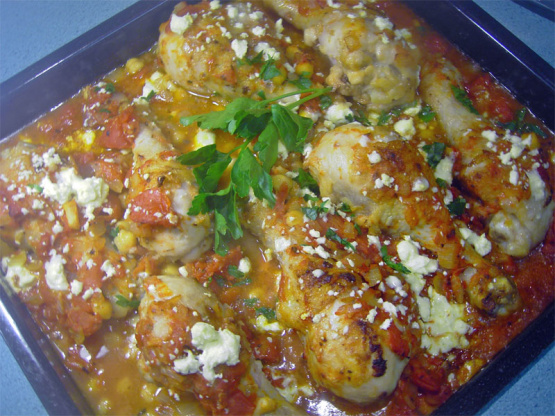 I made this for tonight. It was one of the recipe in the recipe book that I bought. Tasted good, I added some frozen beans and the book suggested to serve with couscous, but I didn't have one so I served with garlic and herb pasta. They were really yummy dinner and my sharemate liked them!
Preheat oven to 180°C.
Combine flour and salt and pepper on a plate.
Lightly coat drumsticks in seasoning flour.
Heat 2 tablespoons oil in a large frying pan over medium-high heat.
Cook chicken, turning occasionally, for 5 to 6 minutes or until golden. Transfer to a shallow 8 cup capacity baking dish. Add chickpeas.
Heat remaining oil in frying pan over medium-high-heat. Add garlic and onion.
Cook for 5 minutes. Add tomatoes, stock, sugar and salt and pepper.
Reduce heat to medium. Simmer, stirring occasionally, for 10 minutes until thickened slightly.
Pour sauce over chicken, stirring to coat. Cover with foil and bake for 30 minutes.
Remove foil and sprinkle with feta. Bake, uncovered, for 10 minutes or until feta has melted and chicken is cooked though. Sprinkle with parsley. Serve with couscous or pasta.