Chicken and Cheese Risotto With Caramelized Apricot Topping
Gatorbek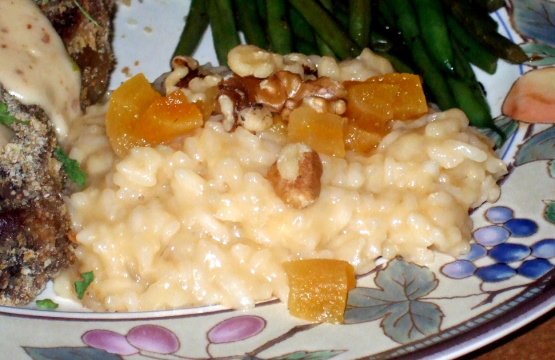 A lovely different risotto with a twist. Use GOOD quality broth since that is what makes the chicken flavor, or poach your own chicken and add it to the rice as well.

Excellent recipe! I made this in my pressure cooker using very flavorful homemade stock that I had on hand. The gorgonzola gave it some real depth, but not enough that my kids recognized it! I soaked my dried apricots in white wine, and the glaze came out very good. Next time, I will probably use a little less water or reduce it for a little longer, just as personal preference. Thanks for a great recipe!
In a sauce pan add the olive oil, shallots and garlic, cook for 3 minutes at medium-high heat. Add the Arborio rice, chicken stock and the white wine, let simmer until the rice is done (al dente) to the bite.
Add the butter, gorgonzola and parmesan cheeses and mix well. Set aside. In a sauce pan add the sugar, lemon juice, water and apricots; cook for few minutes until apricots are soft.
Place the risotto in the middle of the plate, add a tablespoon of the caramelized apricots and a couple of walnuts on top.
Garnish with a spring of basil.