Chicken and Broccoli Stir-Fry
Pam-I-Am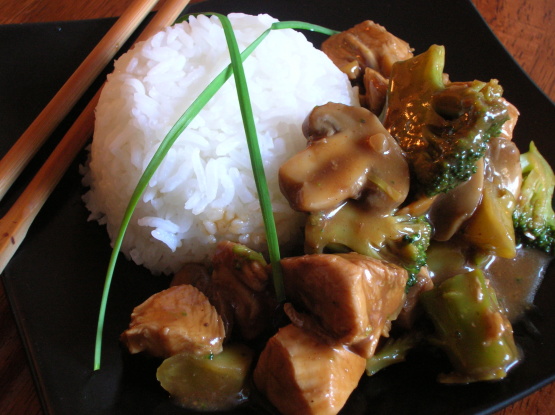 This is a quick and easy-to-make dish.

Top Review by Kimke
I made this last night. It was fairly quick to put together once the chopping was done. I think the time to prepare should be changed as it recommended marinading the chicken for several to many hours. Since I don't enjoy sweet things, I took the other reviewers suggestion and left out the brown sugar, I also reduced the hoisin sauce to 1 TBSP vs. 2 TBSP. If I had not done this, it would have been a VERY sweet dish! I did also add a red pepper which made it quite colorful. It is a very pretty looking dish, very colorful, especially with the addition of the red pepper. If you don't mind a sweet sauce, this recipe is lovely. As we prefer something a bit more salty, it was much too sweet for our tastes, even with the reduction in the Hoisin and elimination of the sugar.
Combine first 6 ingredients in a medium bowl, stirring well; set aside. Cut chicken into 2-inch strips; add chicken to marinade, toss to coat.
Refrigerate in tightly covered container 8-24 hours.
Pour oil around top of a preheated wok or skillet, coating sides; heat on medium-high for 1 minute. Remove chicken from marinade. Place marinade in a small saucepan; bring to a boil, and cook 5 minutes. Set aside.
Add chicken to wok; stir fry 2-3 minutes. Remove chicken, and set aside. Add broccoli to wok, and stir fry 2 minutes. Add mushrooms; stir-fry 2 minutes or until crisp-tender. return chicken to wok; add marinade, stirring well. Combine cornstarch and water; add to wok. Cook stirring constantly, until thickened. Serve chicken mixture over fried Chinese noodles or hot rice.