Chicken and Broccoli Quiche
Monica P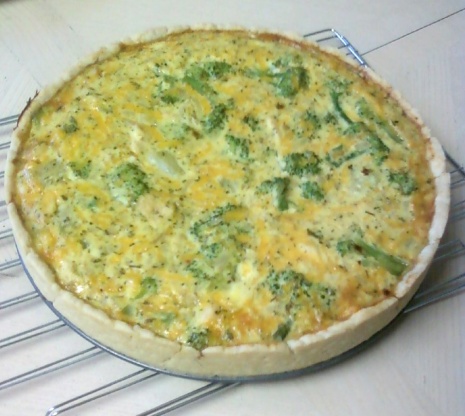 So simple and delicious! I will admit I did change a few ingredients around. My family likes quiche with lots of vegetables and meat, so I doubled the amounts of chicken and broccoli, and I used green onions. I reduced the eggs to three, and used 1 1/2 cups of whipping cream (didn't have half and half). I reduced the salt to 1/2 tsp., and added 1/2 tsp. Perfect Pinch for chicken, along with 1/3 cup finely chopped orange sweet peppers. The quiche was perfectly done at 35 minutes for the second temperature. My family said the quiche was delicious!
Preheat oven to 425 degrees.
Sprinkle shredded cheese, onion and broccoli and chicken filling evenly over bottomof pie crust.
In a medium bowl, whisk half and half, eggs, flour, and seasonings until smooth.
Pour enough of the egg mixture in the pie crust to come within 1/2 inch of the top.
Bake at 425 degrees for 15 minutes; reduce heat to 300 degrees and bake for an additional 30 to 40 minutes longer, until a knife inserted in the center comes out clean.
Let stand 10 minutes, cut and serve.