Chicken and Broccoli Casserole
This recipe is a family favorite. We always double the recipe and have it for left overs. You can substitute fat free/low fat ingredients and have a healthy dish too.
Directions
Heat oven to 350°F.
In medium bowl, mix together cream of chicken soup, mayonnaise, sour cream and lemon juice, until smooth.
In 2 quart casserole dish, layer thawed broccoli (on bottom) then chicken and last, mayonnaise mixture.
In small bowl, mix together bread crumbs and melted butter.
Sprinkle on top of casserole and bake in oven for 30 minutes.
Most Helpful
This was really good and made a homey, comforting dish with items I had on hand. I used fresh broccoli that I blanched beforehand, one can cream of chicken (low sodium) and one can cream of celery (low sodium) and subbed canola mayo and it still tasted great. This is very kid friendly because there are no overpowering flavors...just creamy, healthy, homemade goodness. Thanks for sharing!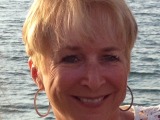 This was so easy! I used chicken gravy that I had instead of the soup (sage, rosemary, and thyme in gravy)...I don't use can soups... and left over chicken thighs...other than that followed the recipe. Also used lemon not vinegar. Also, cracked pepper! It is raining and cold and this was a great easy casserole. Thank you for an easy yummy comforting supper! Jelly :wave:

I used fresh broccoli that I had blanched. I used one can cream of chicken and one can cream of celery. Turned out really good. My family enjoyed. Made for the Bargain Basement tag game.