Bayhill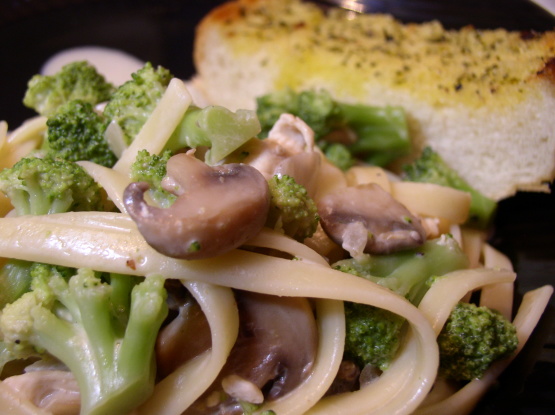 This sounds delish, I haven't tried yet, but I intend on it!

Wow, this is a treat. I made a single serving and got enough for 2 dinners so it's very low in calories to boot. I used lemon pepper fettuccine which added a very nice touch. I added the broth and cooked that down some before adding softened cream cheese. It's really simple and tastes much richer than it actually is. I'll be making this again for sure. Made for PAC, Spring 09.
Prepare fettuccine according to package directions; drain and keep warm.
Lightly spray a large non-stick skillet with non-fat cooking spray and heat over medium-high heat.
Add chicken tenders and cook until chicken is no longer pink and is cooked through; remove chicken from skillet and set aside.
Lightly respray skillet, saute onions until soft and transparent, about 5 minutes.
Add mushrooms and continue cooking until mushrooms are tender.
Stir in chicken broth and cream cheese; heat over medium-high heat until mixture almost comes to a boil and thickens.
Add chicken, broccoli, and pepper to skillet; cook over medium heat until heated through.
Toss with fettuccine and serve immediately.