Chicken and Black Bean Taquitos With Adobo Sour Cream (3 Ww Poi
punkyluv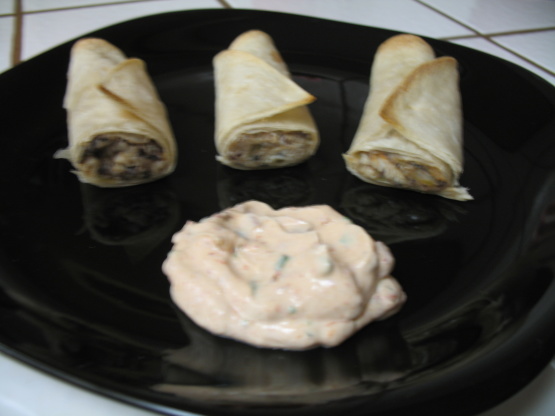 I saw this on a diet recipe and thought it looked interesting. I will make this soon but thought i would share it first with all you ww junkies!lol. 3 ww points per taquito and 2 1/2 teaspoons of dip. the cooking times were not included so this is just a guess and does not include the freezing time. UPDATE:1-9-09 We made these last night and they are really good! THey have a nice flavor. next time i might spray them with some cooking spray before cooking to give them a even cook other than that they were great! The sauce was good but i wasnt in love with it. hubby loved the sauce and said it had a nice smokey flavor!

Delicious! Mine did not turn out as nicely as yours in the picture, but they sure tasted great. I threw some chopped onion into the taquitos, and, because I don't own a food processor, I roughly mashed the black bean and chilies by hand and then shredded the chicken. The sauce was a great touch. Thanks for sharing!
To prepare taquitos, heat oil in a large nonstick skillet over medium heat. Add chicken, and sauté 5 minutes or until done. Place chicken in a food processor. Add cheese, beans, and green chiles; pulse 15 times or until beans are coarsely chopped.
Spoon about 3 tablespoons chicken mixture across the lower third of each tortilla; roll up. Cut each tortilla in half; secure with wooden picks. Place taquitos in a large zip-top plastic bag; freeze up to 3 months.
Preheat oven to 400º.
Place frozen taquitos on a large baking sheet coated with cooking spray. Bake at 400° for 10 minutes; turn taquitos, and coat with cooking spray. Bake an additional 10 minutes or until golden.
To prepare adobo sour cream, combine sour cream, cilantro, and chipotle chile. Stir well.
Yield: 20 servings (serving size: 1 taquito and about 2 1/2 teaspoons dip).
CALORIES 125 FAT 4.1g FIBER 1.1g.