Chicken and Bell Pepper Mock Risotto
IOjaw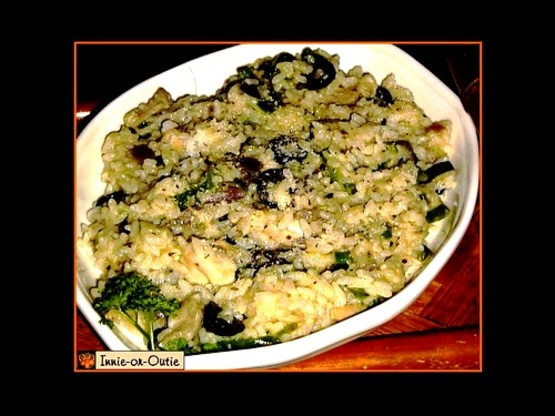 Do you ever end up with oddball extra pieces of uncooked meat or seafood in the deep freeze section of your refrigerator (usually to be forgotten until who knows when)? Sometimes the oddball goods are complimentary and easily used in a dish that requires small amounts of different foods, such as paella. Here is a simple recipe that makes use of that oddball piece of poultry left in the freezer
Heat oil in a large skillet on medium heat.
Thoroughly brown chicken strips in oil.
Add bell pepper, onion, pepper, garlic, and oregano.
Stir-fry until bell pepper is slightly tender.
Add basil, soy sauce, rice, and black olives.
Continue stir-frying until all the ingredients are thoroughly combined.
Mix in gravy and bring to a low boil.
Reduce heat and simmer for approximately 10 minutes.
Plate and sprinkle with Parmesan and parsley flakes.
Garnish with parsley sprig.
***A small side salad makes a great accompaniment.