CarolAT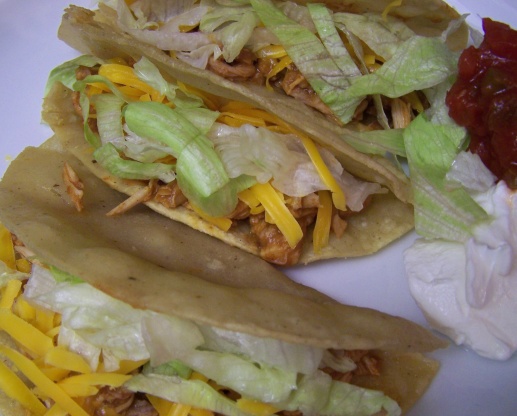 A great crock pot recipe that I adapted from Pillsbury.

this was really good. my dh said it is a definite repeat; he isn't a huge fan of the multitude of creamy chicken recipes. ;) i didn't have cannellini beans but looked it up and read great northern beans can be used instead. they were a good substitute- i didn't put them in until the very end b/c they are already a soft bean. i also added a little salsa (the chicken was getting a little dry) and lime (had it on hand). thanks for the recipe!
Add chicken thighs to a 4 quart slow cooker.
Sprinkle with taco seasoning.
Sprinkle chopped chiles on top of chicken.
In a bowl, add tomato sauce, cumin, and coriander seed; stir to combine.
Pour mixture over the top of the chicken.
Top with beans.
Cover, cook on LOW for 7 hours.
Remove chicken from crock pot and set aside.
Mash beans with a potato masher (Doesn't have to be perfectly smooth, we like some chunks of beans).
Shred chicken and return to slow cooker; stir to mix well.
To assemble taco: spoon about 3 tablespoons of chicken filling into each taco shell; then add 1 tablespoon cheese and lettuce, then add 2 teaspoons sour cream and salsa.
Enjoy.