Chicken and Bean Curry (Ww 7 Points)
KateL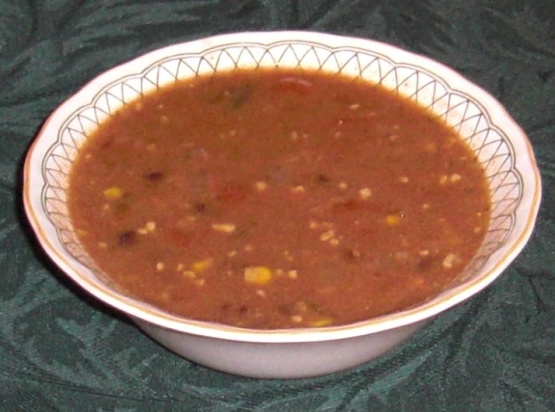 This Weight Watchers friendly recipe makes six large portions. It freezes well and is wonderful served over rice, couscous, or a baked potato. Soudaniya is a sweet-hot Moroccan paprika. Substitute any combination of paprika and hot chili powder to your taste.

Top Review by KateL
Delicious, mild curry with mild sweetness, and wonderful change of pace. This could be made vegetarian by omitting the chicken and adding another can of beans. Instead of storing leftover ingredients after measuring, I used 1 can of cannellini beans, 2 cans of black beans, and 2 cans of diced tomatoes. I used Madras curry powder (a wonderful mild curry) and Hungarian hot paprika. I generally double garlic due to personal preference. I could not locate dried green onion flakes, so I used regular dried onion flakes. My house honey is orange blossom honey, which complemented the spices well. It was confusing to add 1 cup of water from the ingredients and another 2 cups of water from the directions. I had at least 1 cup too much water in my recipe, so it turned out more like a soup/stew. Quite enjoyable, I'll make this again. Made for Bargain Basement Tag.
Dice chicken & mince garlic/onions.
Throw everything in pressure cooker with about 2 cups of water on med-low until done (about 20 minute after steam starts escaping quietly). Add dried green onion and other spices to taste (before cooking, so the dried onion rehydrates).