Chicken and Basil Stir-Fry
PaulaG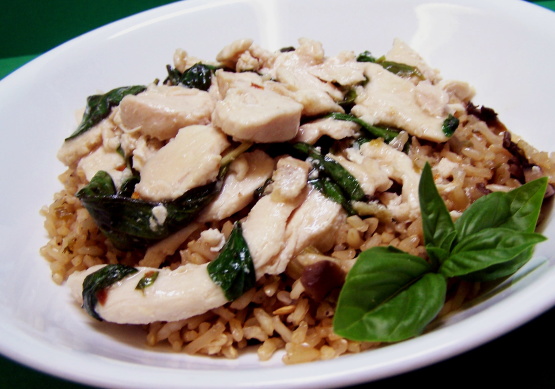 This is my adaptation of another good basil recipe from Sunset magazine. I serve this over jasmine rice.

This was very good! I did add some onions, red and yellow bell peppers, and green beans. I doubled the broth mixture to accomodate my additions. And like PaulaG I added extra garlic!
Slice chicken into 1/8-inch thick strips, 2 to 3 inches long.
Place a nonstick frying pan or wok over high heat.
When hot, add oil, garlic, ginger, pepper flakes and chicken.
Stir-fry until chicken is no longer pink in the center 3 to 4 minutes.
In a small bowl, mix broth, fish sauce and cornstarch until smooth.
Add to pan and stir until sauce is boiling, about 1 minute.
Add basil leaves and stir just until barely wilted, about 30 seconds.
Add salt to taste and pour into a serving bowl.