Bayhill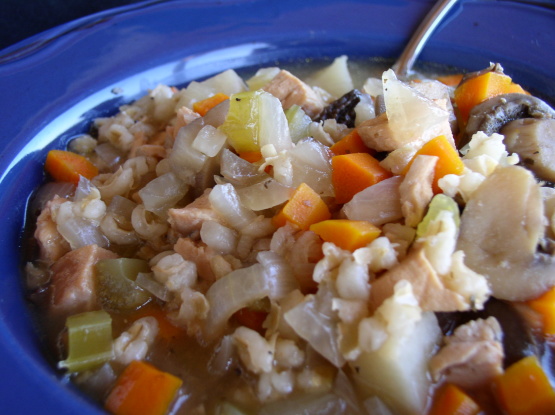 Needed to use up some cooked chicken one day and remembered the tinned Beef with Veg and Barley soup I used to eat as a kid. This version didn't come out too bad at all.
We loved this delicious, hearty soup! I made this in my 6-quart crockpot, cooking it on "high" for about 5 hours. The result was a very flavorful soup with tender vegetables and barley. I used pre-cooked grilled chicken strips and went a little heavy on the vegetables. I didn't use the lemon juice simply because I forgot to add it. Thank you for sharing this simple, delicious recipe. **Made for "Soup's On" challenge for the Culinary Quest - Suitcase Gourmets**
Bring chicken broth to boil in large pot over medium heat; add pearl barley, mushrooms, carrots, celery and onion and simmer for 25 minutes; add potato and simmer 15 minutes longer, or until barley is tender; add chicken, herbs and lemon juice to soup; season to taste; simmer 5 minutes; if you like a thinner soup, thin with some more chicken broth.
Note: If you want a'richer' soup, add up to 1/2 cup olive oil to the stock.