Chicken and Bacon Shish Kabobs
TJW2725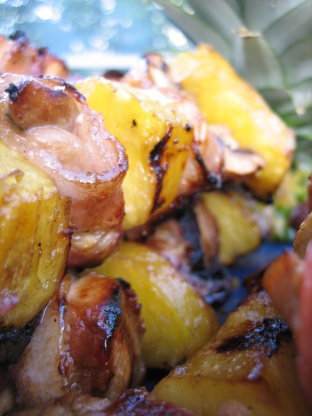 272 5 star ratings over at Allrecipes, posted by Angie. Hands down, the BEST kabobs I have ever had.

Yummy! These turned out better then I expected. Put marinade in blender to make sure honey was mixed in well and added some pineapple juice to the marinade. Smelled wonderful while being grilled! Skipped the mushrooms and green onions (used onion poweder) and used red bell peppers! Thankis for posting
In a large bowl, mix the soy sauce, cider vinegar, honey, canola oil, and green onions. Place the mushrooms and chicken into the mixture, and stir to coat. Cover, and marinate in the refrigerator at least 1 hour.
You can marinate overnight, but only do the mushrooms for an hour.
Preheat grill for high heat.
Wrap the chicken chunks with bacon, and thread onto skewers so that the bacon is secured. Alternate with mushroom halves and pineapple chunks.
Lightly oil the grill grate.
Arrange skewers on the prepared grill. Cook 15 to 20 minutes, brushing occasionally with remaining soy sauce mixture, until bacon is crisp and chicken juices run clear.