Chicken and Artichoke Cacciatore
IngridH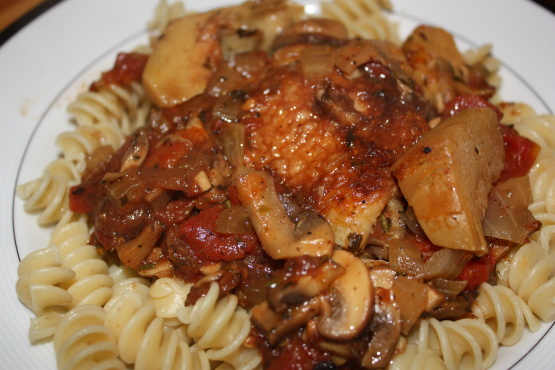 A little twist on chicken cacciatore. This tastes best with bone in chicken pieces, but sometimes I like to substitute a mix of boneless breasts and thighs just because it is easier to eat (plus it cuts out some calories).

Something that comes out this good really should be harder to make. I'm really glad that it isn't though :D. It was perfect to make last evening after a busy day and needed nothing more than a small side salad for a delicious meal. Don't know why it's taken me so long to try this but I' sure glad that I finally did and will do so again. Made for Culinary Quest 2014.
Drain the artichoke hearts, reserving the marinade. Set artichokes aside. Place the marinade and butter in a large skillet; cook over low heat for 10 minutes.
Dredge the chicken in flour. Brown the chicken in the butter mixture over medium-high heat. Transfer the chicken to a 13 x 9 x 2 inch baking dish, reserving the butter mixture in the skillet.
Saute the onion, mushrooms, garlic, oregano, basil, and rosemary in the reserved butter mixture until the vegetables are tender. Stir in the reserved artichokes, tomatoes, and salt and pepper to taste.
Pour the tomato mixture over the chicken. Cover and bake at 350 degrees for 50 minutes.
Remove the cover and pour the Madeira over the chicken. Cover and bake an additional 10 minutes.
While the chicken is cooking, cook the linguine according to the package directions. Serve the chicken cacciatore over the linguine.