KellyMae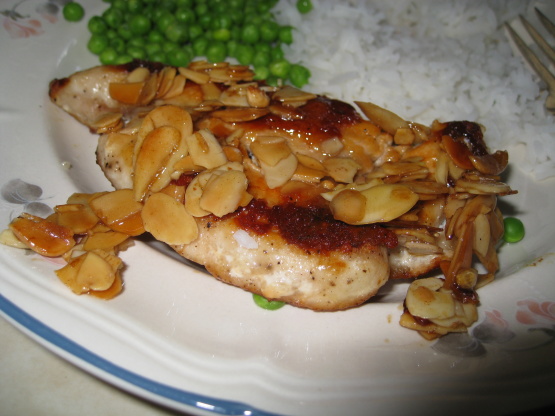 I don't remember where this recipe came from but it is quick, easy, and good...the three things that I am always looking for in a recipe. Served with rice and broccoli, it is much requested meal.

Very good!!! I got a little off the track and threw some capers into the sauce (a la chicken picatta). Enjoyed this very much thanks for sharing.
On waxed paper, mix flour, salt, and pepper; use to coat chicken breasts.
In 10-inch skillet over medium-high heat, in 1 tablespoon hot margarine or butter, cook chicken breasts until browned and fork-tender, about 10 minutes.
Remove chicken to platter.
In same skillet over medium heat, in 1 more tablespoon hot margarine or butter, cook almonds until lightly browned.
Stir in lemon juice.
Spoon sauce over chicken.
Garnish with parsley sprigs.