Jen8409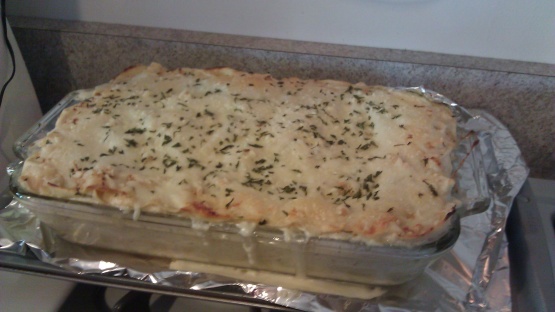 My Stepson doesn't like marinara sauce but loves alfredo sauce. So, I came up with this very easy recipe and he said it's even better than what he usually gets at Olive Garden!!!

was a very good lasagna i added provolone cheese.
Season the breasts with pepper, oregano, and whatever meat season you like.
Place the breasts in a microwave steamer and steam until almost done.
Remove the chicken from the microwave, drain the water and put the breasts in the fridge or freezer to cool. DO NOT FREEZE!
Pour the alfredo sauce into a large sauce pan. Fill the jar 1/2 way with milk, return the lid, shake well, and pour into the sauce. Add some pepper to the sauce and stir. Simmer.
In a frying pan, heat up some olive oil. When hot, add 1 1/2 tablespoons minced garlic and 1/2 a yellow onion diced. Sautee.
Add sliced mushrooms and give a few good splashes of balsamic. Cover and sautee over medium heat. When the mushrooms have soaked up the vinegar and started to shrink, remove the lid and cook until the vinegar has reduced. Add mushrooms to the alfredo sauce and stir well.
By now, the chicken should be cooled. Remove from cooling and cut into cubes -- the smaller the better.
Heat up about a teaspoons olive oil in the same frying pan used for the mushrooms and add another tsp of garlic. Add the chicken and a couple splashes of balsamic. season with a little more pepper and oregano. Cover and cook over medium heat, stirring occasionally. Once all the flavors have combined, remove lid and cook until the vinegar has reduced. Add chicken to the alfredo sauce. Cover and simmer, stirring occasionally.
Once the sauce has had time to cook and infuse all the ingredients, remove from heat and allow to cool for about 10 to 20 minutes.
In a mixing bowl combine 1 egg, ricotta, parsley, oregano, and 1/4 cup of parmesean cheese.
With a rubber spatula, spread the ricotta mixture over 9 oven ready lasagna pieces. Set aside.
Preheat oven to 350.
In a glass 8 1/2 X 11 baking dish, scoop a heaping ladle of sauce and spread on the bottom of the dish. Lay 3 lasagna pieces across the bottom. Cover with mozzerella and then ladle more sauce over the cheese. Repeat this until the last layer. Use any remaining sauce on the top layer and cover entire top with mozzerella. Cover with aluminum foil.
Place in the oven for 25 minutes. Remove foil and continue to cook until the top layer of cheese is melted and the pasta is tender. Remove from the oven and allow to stand for about 10 minutes. Serve with salad and your favorite bruchetta or garlic bread.