Chickee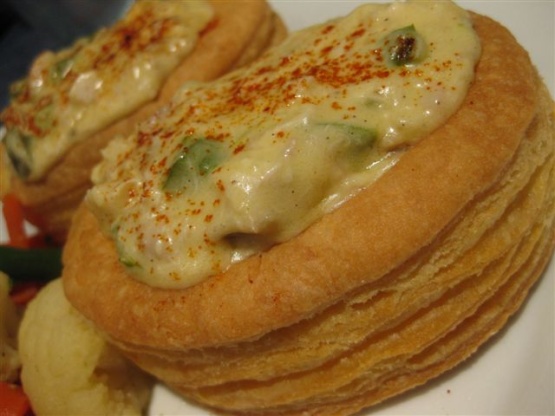 love the creamy taste of chicken, goes well with rice, as a topping for pasta noodles or scooped over puffed pastry cups
This is one of my go-to recipes when I have leftover roasted chicken. I add about a tablespoon of low sodium chicken base and leave out the salt. Leftovers never tasted so GOOD! UPDATE: Last time I made this I was out of bell pepper and pimento, so I used what I had on hand: carrots, celery, onions, mushrooms and frozen peas. It was great too; like the inside of a chicken potpie.
cook mushrooms, bell pepper with butter, salt and pepper for 2-3 minutes.
remove from heat and stir in flour.
return to heat, stir 1 min then add broth and cream, bringing it to a boil, stirring constantly until slightly thickened.
add the chicken into the pan and add pimento and heat through.
Serve warm with your favorite long pasta noodles (spaghetti,angel hair,fettuccini) or warm rice or puffed pastry shells.