Chicken 65 (4 Variations)
KateL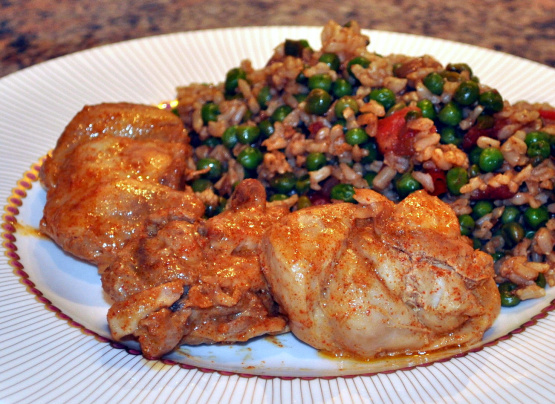 Taken from indiacurry. com and posted for ZWT. I found this recipe intriguing and with all the variations, there should be a version here for everyone to try. Different methods listed in instructions. Marinade time not included. "Battered deep fried spicy hot chicken dish used as snack or main meal pungency from cayenne ginger mustard and vinegar. Chicken 65 has become one of the popular offerings in the full service restaurant. No one really knows the origin of the name. It is believed that someone tried to cook a whole chicken in a pot with 65 dried red chili peppers to make it hot, and then adjusted the spices by adding lime juice to make it more palatable. The dish has been modified to compete against American 'Buffalo wings'. The basic pungency in the dish is derived from ginger, cayenne pepper, mustard powder and the vinegar. The dish can be served as a main entree and made from chicken breast, or as an appetizer. You can make chicken 65 many ways.."

Top Review by KateL
Packed with flavor, and has a sharp hot spiciness. It was delicious going down. I did the curry chicken option, but at the end, I removed the cooked chicken to the oven to stay warm while I reduced the liquid from watery to somewhat thick. TG our digestive systems accepted this much spice without repercussions. We each had seconds. Made for The Wild Bunch of ZWT8 for its trip to India.
Marinade:
Mix all ingredients well, except chicken drumsticks. Add drumsticks and put it in refrigerator for about 4 hours or overnight.
Cook the drumsticks and marinate on stovetop at medium heat til they are tender.
Bring it to a boil. Cook covered 15 minutes. Remove the lid. Let it cool.
Use a slotted spoon to remove the chicken and set it aside.
Add egg and flour to cooked marinate. Beat it into a batter. Adjust salt and pepper if needed.
Pre-heat deep fryer at 350º F. Coat chicken in batter. Deep fry 3 to 5 minutes.
Method #1 - Baked Dry Chicken 65 -.
Marinate chicken. Remove the chicken from marinate. Baste chicken with ghee (clarified butter) and bake in an oven preheated to 425F for 20 minutes. Serve it as a finger food. Cook the marinade and use it as a dipping sauce.
Method #2 - Crispy Deep fried Chicken 65
Marinate chicken. Remove the chicken from marinade. Cook the chicken with marinade on stove top til chicken is almost done, about 15 minutes if boiling. Remove from the marinade. Add flour to marinade and make it into a batter. Deep fry battered chicken at 350º F for five minutes. Serve it as a finger food.
Method #3 - Curry Chicken 65
Marinate chicken. Remove from marinade. Heat ghee (clarified butter) in a pan. Brown the chicken, return to the marinade. Simmer on low heat, covered. Cook for about 25 minutes till done.
Method #4 - Stir-fried Chicken 65
Substitute chicken breast for drumsticks. Marinate it. Remove from marinade. Stir fry in hot pan about 6 to 8 minutes. Cook (heat to boiling) the marinade and serve as dip or return to cover the fried chicken.