Chickee's Favourite Gluten Free Sandwich (Or French!) Bread
Jubes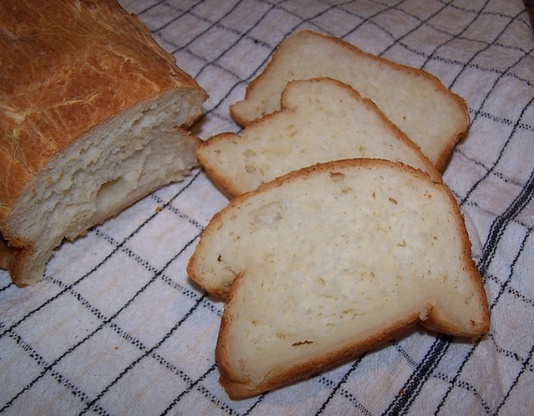 This is a great bread with a unique soft texture. It will make (sort of) baguettes that can be made into garlic bread- they are a little flat, but they do the job! This will make one loaf, or two smallish baguettes. Easy to make dairy free too, just use soy milk.

I made this for my four year-old Autistic son who is on a gluten free diet. We used it for peanut butter and jelly sandwiches. He is an extremely picky eater and ate this without complaint or resistance! I used a bread maker and it turned out pretty good. It did turn out a tad bit shorter than an average sandwich bread would be. The bread was pretty much tasteless so it I would expect that it would blend in with any flavor. When I first took it out of the bread maker it was very moist and had a great texture. It did get dry after a week being stored in the refrigerator. (Like any gluten-free bread).
Add all dry ingredients together and mix well.
Combine wet ingredients and add to the dry.
Beat in an electric mixer (strong) on high for 3 minutes.
Pour into an 8 x 4 inch loaf pan (or use oiled hands and spatula to shape into 2 thin, tallish baguettes on baking paper). Let rise in a warm place for 30 minutes.
Brush the top with oil (you must do this step! Otherwise the crust is yuk) and bake at 180 C or 350 F for 50-60 minutes.
Variations-Add olives, sundried tomatoes, italian herbs and a little parmesan to make a nice foccacia! (instead of making two baguettes shape into a square or round).