Chicago Style Hot Dogs and Fries
Bergy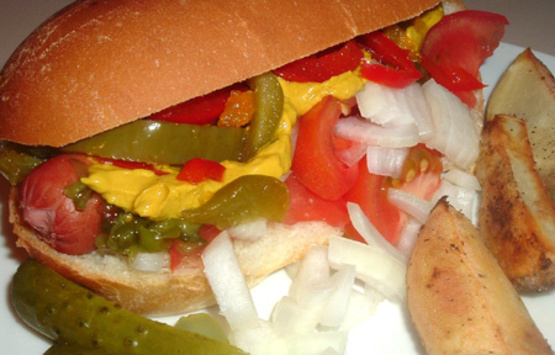 The famous Chicago Style Hot Dog was born when street cart hot dog vendors came onto the hard times of the Great Depression. Money was scarce, but business was booming for these entrepreneurs who offered a delicious hot meal on a bun for only a nickel yes only a nickle. They'd start with a Vienna Beef hot dog, nestle it in a steamed poppy seed bun and cover it with a wonderful combination of toppings. This unique hot dog creation with a "salad on top" and its memorable interplay of hot and cold, crisp and soft, sharp and smooth, became America's original fast food and a true Chicago delight.

Rita has the recipe on spot for the dog's but the fries are a miss. They are too thick for Chicago fries. The best one's are fresh cut and double fried like they sell at Parky's and Jean & Judes.
8

beef hot dogs, Vienna

2

lbs idaho potatoes, unpeeled and straight cut (3 inches long by 1/2-inch thick washed and towel dried)

8

hot dog buns

1

cup onion, chopped

1

cup fresh tomato, seeded and cut into wedges

1

cup yellow mustard

1

cup sweet pickle relish

8

pickle spears, kosher-style
hot pepper, to taste (Sport peppers)
celery salt, to taste
Preheat the fryer.
Fill a stock pot 3/4 of the way full with water and bring to a boil. Add the hot dogs, reduce the heat to a simmer and cover. Cook until the hot dogs are plump, about 6 to 8 minutes.
Fry the potatoes until golden brown, about 4 to 6 minutes, stirring occasionally for even browning. Remove and drain on paper towels. Season with salt and pepper. Place the hot dogs in the buns. Start topping the hot dogs with 2 tablespoons of each: onions, tomatoes, mustard and relish. Top with sport peppers to taste and sprinkle a little celery salt on top.
Place each hot dog in the center of a piece of deli wrap. Place the fries next to the hot dog. Wrap the dog and the fries up tightly and serve.
Game Time!