Chicago-Style Butter and Garlic Pizza Crust
Boomette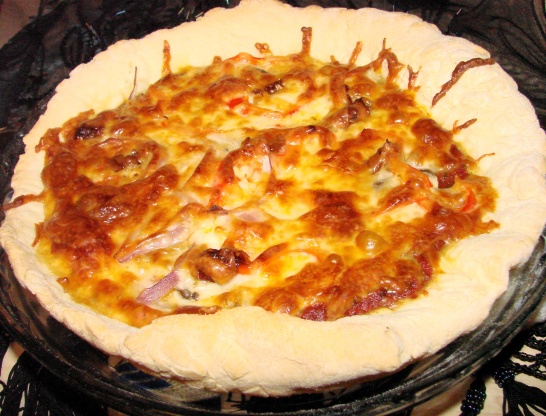 This is a recipe I got from Rachael Ray's magazine. It looks so good and I want to try it soon. She got the recipe from nine-time World Pizza champion Tony Gemignani (a pizza throwing champion). This is a deep-dish pizza baked in a 9x13 inch baking dish. This will make 1 14-inch pizza. The number of servings is just an estimate. The rising time is included in the prep time.

I made this recipe tonight and would likely make it again. I didn't try it but for the most everyone seemed to like it pretty well after i added in garlic, oregano, basil, and rosemary. It was extremely easy to make and cooked up well. With that being said, make sure you roll out the dough rather thin, and expect to cook it a MINIMUM of 30 minuets, I found mine still a little undercooked even at 37 minuets. My only complaint is the crust crumbled a little too much both while slicing and eating... Not sure what could be done to fix that....
In large bowl, dissolve yeast in 1/4 cup lukewarm water.
Add 1/4 cup flour and the sugar, stir together.
Cover with plastic wrap and let rise in a warm place for 20 minutes.
Stir the remaining 1 cup lukewarm water, 3 cups flour, the cornmeal and salt into the yeast mixture.
Combine the butter and garlic; mix into the dough.
Turn out onto a lightly floured work surface and knead until soft and elastic, 10-12 minutes.
Lightly grease a large bowl, add the dough and turn to coat.
Cover and set in a warm place until the dough is doubled in size, 1 hour.
Punch dough down, then knead for 2-3 minutes.
Grease a 9x13-inch baking pan, then press in dough to cover the bottom and 2 inches up the sides; let rise for 20 minutes.
Preheat the oven to 500 degrees.
Top the pizza dough with your favorite toppings.
Lower the oven to 450 degrees and bake for 30 minutes.