Ann W.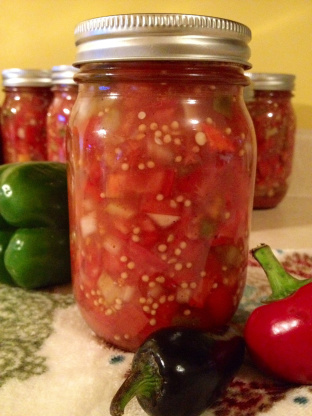 Filled with flavor, from the Mississippi Valley Chapter of the United States Regional Cookbook, Culinary Arts Institute of Chicago, 1947. While this recipe is written in an old-fashioned way, it is perfectly safe if processed using modern methods. If you are unfamiliar with these techniques, please go to http://www.uga.edu/nchfp/how/can_home.html for the current information.
Chop tomatoes finely, drain off excess juice.
Mix with onions, peppers and celery.
Dissolve sugar and salt in vinegar; add with mustard seed and spices to vegetables.
Mix well and seal in sterilized jars.