Pomtini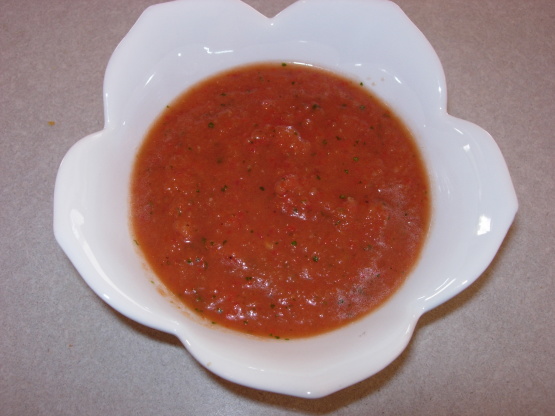 this is probably my favorite summer food-salad in a mug. it is very refreshing, not to mention low fat, low calorie, but full of vitamins and flavor

Came looking for an easy gazpacho recipe and all I can say is wow! Love it! My changes were that I deleted the tomato paste because I didn't have any on hand and added some sliced jalapenos that we had in the fridge. As good as this is after a couple of hours, its is even better the next day.
puree first 4 ingredients in processor.
reserve 1/2 c each tomatoes, cucumbers, green pepper, then add all the rest of the ingredients to processor, pulse until chunky. chill, 1-6 hours.
garnish with reserved vegetables and extra tabasco, and sour cream, to taste.