Chianti Braised Short Ribs (Olive Garden)
Prep 30 mins
Cook 3 hrs 30 mins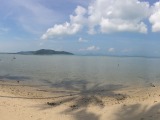 I have not tried this yet, but it does look interesting.
Directions
Pat the short ribs dry and season with salt and pepper.
Coat a large, nonstick pan with olive oil. Sauté the short rib pieces over medium-high heat for about two to three minutes on each side or until brown. When finished, transfer the short ribs to a bowl.
Next, add the onions to the pan and cook over medium heat for approximately three minutes. Once the onions are translucent, add the garlic and cook for one minute.
Add the Chianti, rosemary, beef broth and tomatoes to the pan one at a time, allowing the liquid to evaporate partially before each addition (about two minutes).
Return the short ribs to the pan, including any juices that might have accumulated in the bowl. Cover and let simmer for three hours on low heat to complete the braising process.
Remove the short ribs from the pan and boil the liquid until it's reduced by half, about 10 minutes.
Return the short ribs to the pan and heat thoroughly.
Most Helpful
Fork-tender beef in a thick savory sauce, so good! It definitely needs to be started at lunchtime to make sure it's done in time for dinner, but it's so worth it. Much of the time is pretty hands-off anyhow. I forgot to pick up crushed tomatoes when grocery shopping, so I used fire-roasted diced tomatoes and mashed them up a bit in the pan. I also used oregano in place of the rosemary (rosemary tastes like Christmas tree to me, not a fan). Poor DH was chomping at the bit to try this as soon as he smelled the meat browning, lol! Thanks for posting!

Very good although I was not able to find the same beef short ribs as Olive garden. I found it was a bit too much onion for us but that's just a matter of taste. I served it with garlic mashed potatoes because we were having friends with their kids over for dinner - very nice pairing. I would definitely serve it again!
OMG!!! This recipe was excellent! I always have this dish at Bucca de Beppo. One day I tried it at Olive Garden and I thought it was better than Bucca. I made this recipe and my family loved it! Tastes just like Olive Garden. Usually I make alterations on recipes, but this one I went strictly by the recipe! Excellent!