Chez Sovan Cambodian Beef Sticks
diner524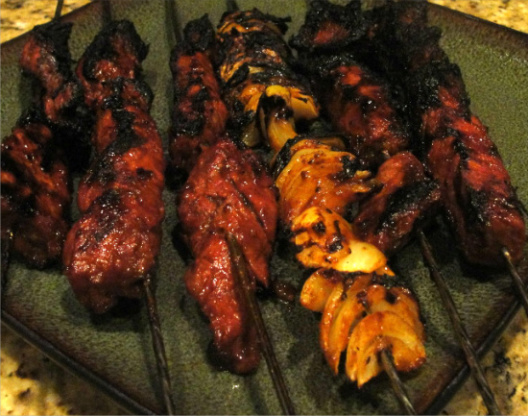 I haven't tried these yet but can't wait to. Found the recipe on another site its from Sovan Boun Thuy, owner Chez Sovan. Ginger can be substituted for galangal if you cant find it. Time does not include the 3 hr marinade. Just a note, i would not omit the kiwi because it has a tenderising effect on meat and will add a subtle flavor that doesnt disturb even if it is not your favorite fruit.

What a wonderful recipe... Tritip is not a popular cut around here, I usually have to drive about 20 miles roasted find it. Instead I used boneless short rib...perfect. You can cut these in half length-wise and skewer or just leave whole and grill. I am always looking for a tasty and economical alternative to lunch meat for my husband who likes to carry his lunch. I make a batch of this, give him a bag of 5 rolls, 5 pieces of fruit and some greens and he has a tremendous, healthy lunch for about $2.50 a day. This is one tasty recipe. Thanks for sharing.
Slice beef on diagonal into thin strips, 1/8- to 1/4-inch thick.
Place lemongrass, lime zest, garlic, turmeric and galangal in food processor or blender and grind to paste. Stir in 3 tablespoons oil. Place 2 tablespoons of spice mixture in bowl large enough to marinate meat. Add oyster sauce, sugar and paprika. Mix and taste, correcting seasoning to your preference. Cut kiwi in half. Remove flesh from one half and mash to a paste. Stir into marinade. Add beef strips; stir. Cover and refrigerate 3 hours.
Start coals and burn until coals begin to glow or turn gas grill to medium heat. Thread beef onto skewers. Grill until well browned, 5-6 minutes per side.
Serves 4.