I would like to make an assortment of buddies/puppy chow. This is the first lemon one I've heard of. Its got fresh lemon juice, peel and white chocolate chips. I got this recipe from one of those grocery store recipe cards my Dh is always bringing home. I would suggest holding back a cup or so of chex until you have seen how much coverage there is on the cereal. I ususally like a bit more stuff on my cereal than the recipe calls for.
Directions
Measure the cereal into a large bowl and set aside.
In a 2 quart microwaveable bowl, micro chips, butter, lemon peel and juice, uncovered on high for 1 minute, stir. Microwave about 30 seconds longer or until mixture can be mixed smooth. Pour mixture over cereal, stirring until evenly coated. Pour into a 2 gallon resealable plastic food storage bag.
Add powdered sugar, seal bag. Gently shake until well coated. Spread on waxed paper or foil to cool, Store in an airtight container.
Reviews
Most Helpful
These are so very good and so very easy! To increase the lemony-ness, I tossed it in 1.5 cups of dry lemon cake mix and appx 1/4 cup powdered sugar instead of straight powdered sugar. Thanks for posting!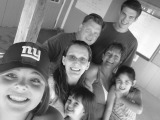 This is totally AMAZING!!!!!! I made a triple batch to send with our daughter and son for 'girls night' and 'guys night' - now i just want to keep it all for myself! It is absolutely perfect!!!
This stuff is addicting! I've made it two days in a row. Finally had to put a lid on the container to keep me from grabbing another handful every time I walked past it. Very nice variation on the puppy chow/Muddy Buddies concept.