Chewy Vegan Chocolate Chocolate Chip Cookies
chiclet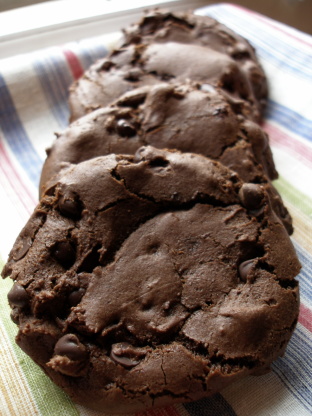 "These are brownie-like and chewy. Be careful not to overbake them, they may seem like they aren't done after 10 minutes but they are! See the variations for Chewy Chocolate Cherry Cookies and Chocolate Hazelnut (or almond or walnut or whatever) Cookies at the bottom of the directions." Recipe from the Post Punk Kitchen (www.thePPK.com) and accredited to Isa.

I made these after reading several of the reviews. I wanted to add 1/2 chocolate chips and 1/2 nuts, so I followed a suggestion of only using 1 1/2 cups sugar, which was fine. Some people said the cookies spread a lot, so I did not use my electric mixer for adding the dry ingredients. From past experience with chocolate chip cookies, using the electric mixer results in a large flat cookie. I baked mine on silicone baking sheets and they were fine...didn't spread and came off easily. The one batch I made on stoneware (which I had oiled well) did spread more than the others but came off easily. Good cookies; I will make again! (Oh, i used almond milk instead of soy since that's what I had.)
Preheat oven to 350°F.
Grind flax seeds in a blender until they become a fine powder, then add the soy milk and blend for about 30 seconds more and set aside.
In a large bowl, sift together cocoa, flour, baking soda and salt.
Cream the sugar and oil in a separate large bowl.
Add the flax/soy milk mixture and mix well.
Stir in the vanilla.
Slowly mix in the dry ingredients (the original recipe does not call for a mixer, but you may want to use yours.).
Mix in the chocolate chips.
Roll dough into 1" balls and flatten into disks about 1 1/2" in diameter.
Place on an ungreased cookie sheet about 1" apart and bake for 10 minutes.
Let rest on the cookie sheet for about 5 minutes, then remove with a spatula to a cooling rack and cool completely.
**For chocolate chocolate chip cherry cookies, replace 1 teaspoon of the vanilla with almond extract, and use 3/4 cup chocolate chips and 3/4 cup chopped cherries.
***For chocolate nut cookies, replace 1 teaspoon of the vanilla with a nut extract (almond, walnut, etc) and replace the chocolate chips with 1 1/2 cups chopped nuts of your choice.