Xanthia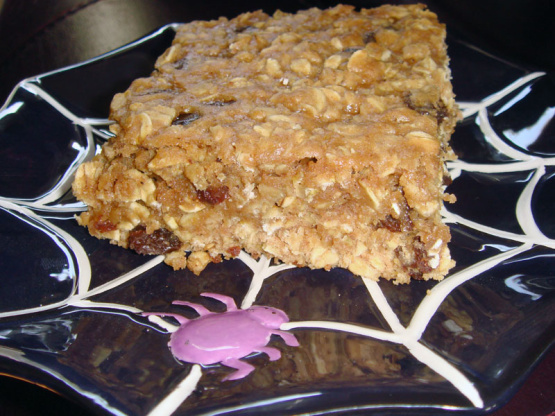 Top Review by Sudie
Thank you Dancer! My DH needs to lower his cholesterol and can't abide cooked cereal. I think you might have given me a solution with these bars! The whole family loved them. Great with a cup of tea, or on the run for a quick breakfast!
Heat oven to 350 degrees.
Beat together sugars and margarine until well blended.
Add apple butter, egg whites, milk and vanilla; beat well.
Add combined flour, baking soda, cinnamon, salt and nutmeg; mix well.
Stir in oats and raisins; mix well (Dough will be moist).
Spread dough onto bottom of ungreased 13 x 9 inch baking pan.
Bake 25 to 30 minutes or until edges are light golden brown.
Cool completely before cutting into bars.
Store tightly covered.