Chewy Oatmeal Raisin Cookies
Rita1652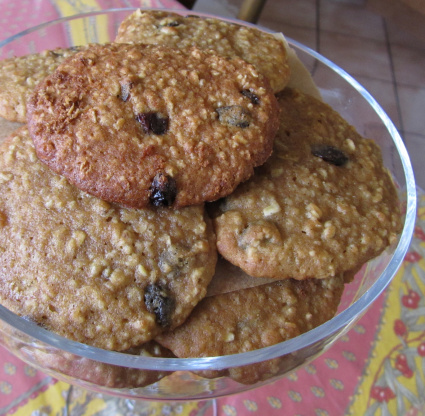 Another delicious find watching Cook Yourself Thin. These lil gems have 116 calories each....MUCH better than your run of the mill cookies. :) Parchment paper is a great baking trick without any added calories that cooking sprays sometimes add. :) **Baking time is 17-20 minutes depending on the size of your cookies and your oven. ENJOY!! **As noticed by a reviewer, I failed to catch that the original recipe didnt mention when to add the raisins. Hopefully this is corrected satisfactorily -- I had to go watch the episode to see what they did! :) I believe the rum/whiskey should be absorbed by the raisins. If there is residual it is certainly at your discretion what to do with it - I would add it as it would lend to the flavor and only be a small amount. This is what it appeared they did, but was not clearly stated. :)

How can you go wrong with oatmeal and raisins :) Really moist, and very tasty. I used gluten free flour and oats and almond milk and soaked the raisins in Bourbon. Thanks for sharing :)
Made for ZWT 8 / Great Britain for the Lively Lemon Lovelies
Set the oven rack in the middle position then preheat the oven to 350 degrees; Line 2 baking sheets with parchment paper or spray with nonstick cooking spray and set aside.
Sprinkle the whiskey or rum over the raisins in a bowl and let stand while you assemble the batter. (most of the liquid will be absorbed by the raisins).
Beat the butter, applesauce, brown sugar, granulated sugar and salt using a handheld or standing mixer on medium-high speed until light and fluffy, around 2 to 3 minutes. (be sure to scrape down the sides of the bowl halfway through).
Beat in the egg and egg white, milk and vanilla.
In a medium bowl, whisk together the flour, baking soda and cinnamon, add to the batter, and beat just until the flour is absorbed then gently fold in the oats and raisins with a rubber scraper.
Use 2 spoons or a small (mini ice cream scoop for portion control) to scoop out the batter by rounded teaspoonfuls onto the prepared baking sheets, 1 1/2 inches apart. Bake until the cookies are set but still soft in the centers and beginning to brown on the edges, 17 to 20 minutes.
Let cool on a wire rack.