Chewy Oatmeal Chocolate Chip Cookies
Pam-I-Am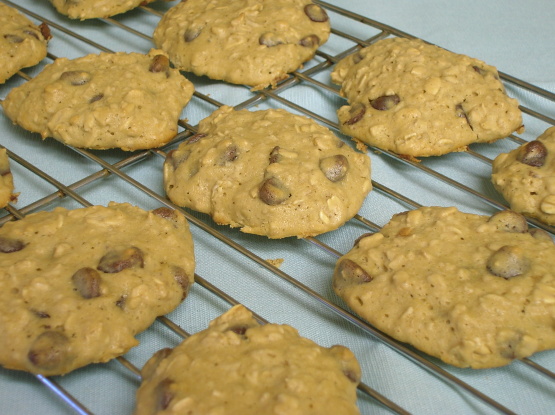 These are a little different flavor from you regular oatmeal cookie as they have butterscotch pudding mix added to the batter, these cookies tend to stick to the pan so grease your pan generously, make certain that you have a large enough bowl there is a lot of batter to this recipe ------ not sure why so many members are having problems with this recipe, these cookies are wonderful!

I didn't have any problems that other people had, and while they weren't the greatest cookies ever, they are still quite good. I also did use quick oats, so that may be why they weren't fabulous.
Set oven to 350 degrees F.
Generously grease a cookie/baking sheet.
In a large bowl, using an electric mixer, beat butter and both sugars for 2 minutes.
Beat in eggs and vanilla until light and creamy them beat in pudding mix until combined.
In another bowl combine the flour, baking soda, baking powder, salt and cinnamon.
Add the flour mixture to the creamed mixture and mix until combined.
Mix in the oats until combined, then mix in the chocolate chips.
Drop by heaping teaspoonfuls on to prepared cookie sheet leaving 2-inches apart.
Bake for 8-10 minutes, or until golden around the edges.
Let baking sheets cool between baking cookies.