Chewy Oatmeal and M&M cookies
GaylaJ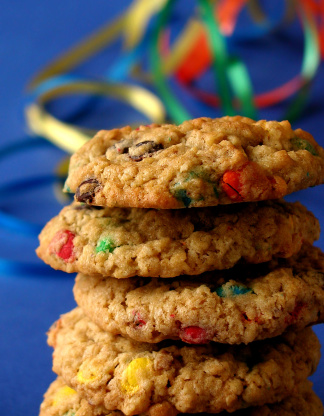 Another great recipe from the M&M website.

I ended up adding a little baking powder, an extra egg and substituted 1/4 cup mini chocolate chips for some of the candies. Still wish they were a little more doughy. I would likely increase the vanilla and lessen the candy and oatmeal amounts in the future.
Cream together butter and both sugars until light and fluffy.
Add in egg and vanilla and mix well.
Then add oats, flour, baking soda and salt, mixing well.
Stir in M&M'S Baking Bits.
Drop by rounded tbsp 2 inches apart onto ungreased cookie sheet.
Bake 8 to 9 minutes at 375, or until cookies are set.
Do not overbake.
Cool 1 minute on cookie sheets then transfer to wire racks and cool completely.