3 Reviews
I was looking for a recip that was cheap and the ingredients were already in my cupboard. I followed the recipe exactly except I added walnuts because my honey had walnuts in the jar. I wanted chewy cookies, and I noticed they looked Cakey while they cooked so I gently flattened them with a spatula 2 times while they baked. The texture was chewy, the flavor was well balanced. I will make these delicious cookies again. I especially like that they don't have a lot of sugar like other honey cookie recipes. The icing gives it a nice little twang! My 9 year old daughter really enjoyed them also. I could see experimenting with this by adding some ground flax seeds and raisins. Thanks for sharing this terrific recipe!
These were really very good and absolutely chewy. I substituted lemon extract in place of the lemon peel plus a little more to get more lemon flavor out of the cookie (4 tsp of lemon extract). I also don't normally like frosting of any kind, but the glaze was perfect!

These are wonderful! They seem more cake-like to us than cookie-like, but who cares! They're lucious little pillows of lemon heaven, that's all there is to that. The lemon flavor in the cookies is quite mild, whereas the glaze will pucker you silly. So they balance each other out perfectly. This is a keeper cookie recipe, YUM! Thanks for sharing Maria Mac. Made for Bargain Basement tag game.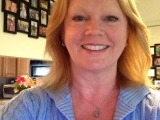 Chewy Honey Lemon Cookies