Bayhill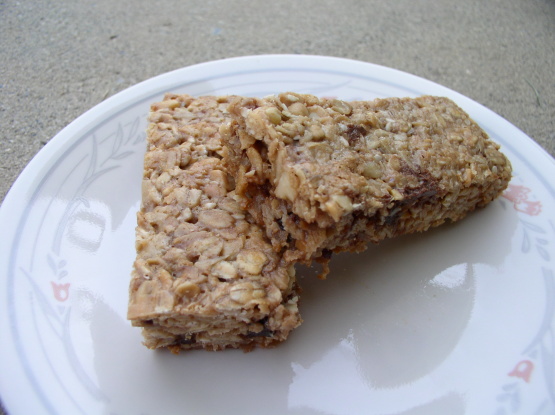 I like these granola bars because they are chewy...not cakelike, not crunchy....nice and chewy. I've tried others, but my kids always ask for these. The recipe is from TOH.

Two and a half stars. These are peanut butter rice crispie treats, not the healthier granola bar type snack I was looking for. Very sugary with all the marshmallows. Very peanut buttery as well. The only person who ended up eating any of these (after we all sampled them initially) was the peanut butter lover in the house, but even she didn't particularly like them and never finished the pan.
In a large bowl, mix together the oats, rice cereal, chocolate chips, coconut, sunflowers, peanuts, raisins, wheat germ, and sesame seeds.
In a large microwave-safe bowl, combine the marshmallows, peanut butter, butter, corn syrup and vanilla.
Microwave the marshmallow mixture at 70% power for 2-3 minutes, stirring often until well-blended.
Quicky stir the dry ingredients in to the marshmallow mixture. You'll have to work quickly as the mix will get gooey fast.
Spread into a greased 13-in. X 9-in. X 2-in. baking pan. To flatten the granola bars, I spray the BOTTOM of a second baking pan with cooking spray, nest this second pan on top of the pan with the mix and press down hard.
Bake at 350 degrees F. for 15-20 minutes.
Cool and cut into 24 bars.