loof751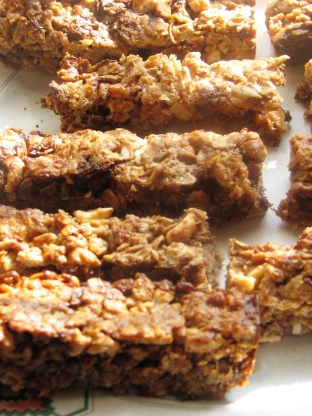 The flavour of chocolate, raisins, nuts, oats, and cereal is enhanced with the addition of marshmallow, which makes these baked bars dense and ooey chewy good! Altered from Taste Of Home Jun/July 04.

These weren't quite what I was looking for. They seem really cakey, then turn very hard after baking. The taste was okay, but I moved on to another recipe, http://www.food.com/recipe/no-bake-granola-bars-60235.
Combine marshmallows, peanut butter, margarine, corn syrup, and vanilla in a micrvavable bowl.
Microwave uncovered at 70% power for 30 seconds to 1 minute at a time, stirring often till blended.
Stir in rest of ingredients.
Spread in a greased 9x9" pan.
Bake at 350F for 13-19 minutes or until set.
Cool and cut into 16 bars; Delicious warm or at room temperature.