Chewy Fruit & Oatmeal Bars
Redsie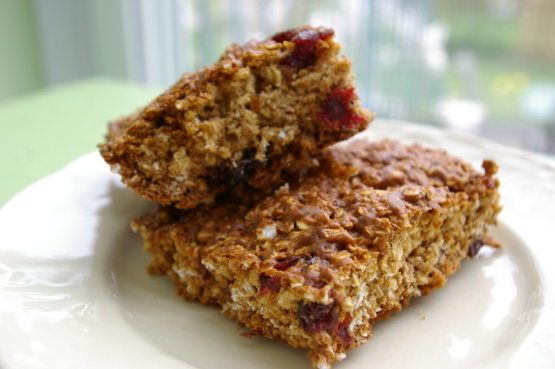 I've been looking for recipes to use up my copious quanities of oats in my cupboard and came across this one on the Quaker site. It's very good, easy to make, and very portable!

I'm having a love affair with oatmeal right now! This turned out a bit more cake-y than I expected but it tastes great and is still plenty chewy. I added dried cranberries and dried cherries. Great as a breakfast bar, dessert and cookie.
Heat oven to 350°F degrees.
In large bowl, combine sugars, yogurt, egg whites, oil, milk, and vanilla; mix well.
In medium bowl, combine flour, baking soda, cinnamon, and salt; mix well.
Add to yogurt mixture; mix well.
Stir in oats and fruit.
Spread dough onto bottom of ungreased 13x9-inch baking pan.
Bake 28-32 minutes or until light golden brown.
Cool completely on wire rack.
Cut into bars.
Store tightly covered.