Chewy Cranberry Oatmeal Cookies
Karamia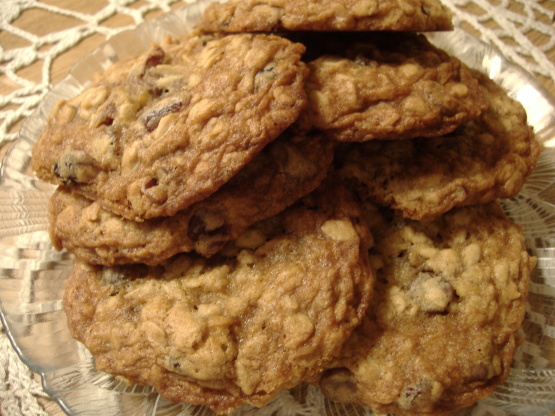 This recipe uses cinnamon in the cookie. My other recipe like this one does not.

Good cookies. Easy to make. I got 52 cookies. The first 18 baked for 10 minutes and I found them a little too soft. Baked the rest of the cookies for 12 minutes and that was perfect. They were then crispy at the edges and soft and chewy in the middle. Also, I replaced the cinnamon and vanila extract with 3 tsp ground ginger (we prefer ginger to cinnamon in cookies). Next time I make these I will skip the chocolate chunks and use all cranberries instead. They (the cranberries) "made" the cookies. Thanks for posting.
Preheat oven to 350 degrees.
Cover two cookie sheets with parchment paper.
In medium bowl mix flour, baking soda, salt and cinnamon and stir in oats.
Set aside.
With an electric mixer, beat the butter and both sugars until light and fluffy.
Beat in eggs one at a time.
Add honey and vanilla and beat until blended.
Add the flour mixture in two additions, beating until well combined.
Stir in cranberries and chocolate chunks.
Drop the dough by heaping tablespoons about 2 inches apart onto the cookie sheets.
Bake until the centers of the cookies are soft, about 9 to 11 minutes.
Let cool on the sheets for 5 minutes then transfer to wire rack to cool completely.