Prep 15 mins
Cook 25 mins
I started making brownies from scratch a couple of years ago and this one is easy and yummy. :) It is a versatile recipe! I put a variety of different chips or nuts in or on top of it. I use it for any recipe that calls for brownies.\
Directions
Preheat oven to 350°.
Grease 13 x 9-inch baking pan.
Combine dry ingredients in large mixer bowl; stir.
Add wet ingredients and stir well.
Spread into prepared baking pan.
Bake for 18 to 25 minutes or until wooden pick inserted in center comes out slightly sticky.
Enjoy! :).
Reviews
Most Helpful
Just what I was craving! Super yummy! I was a bit skeptical of this recipe after reading the reviews, but it comes out just as descibed if done right. The batter will feel much more like dough, and will need to be plopped into the plan and spread rather than poured. It will seem very thin before baking, but it rises quickly to about 1 inch (perfect size for me). I only needed to bake mine for a little under 20 minutes before it was completely done. Note: The brownie will seem cakey if you cut and eat it right away! For the perfect chewy brownie, you must wait for it to cool completely. Wait atleast another 10-20 minutes before cutting. The colder, the chewier. Great recipe, I will definitely be using it again!
Best brownies I've ever tasted! I didn't have quite enough cocoa, so I substituted chocolate chips for the balance. Now, if I can just refrain from eating the entire pan in one sitting. Haha! Just kidding ... sort of. ;-)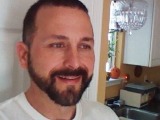 This is exactly what I have been looking for. Made half a recipe and added 2 t. espresso coffee granules. Baked in 9X9 pan. Had to use wet hands to spread them out but was just fine. 20 min. was perfect.

Halloween Central >