Chewy Chocolate Chunk Cookies
katew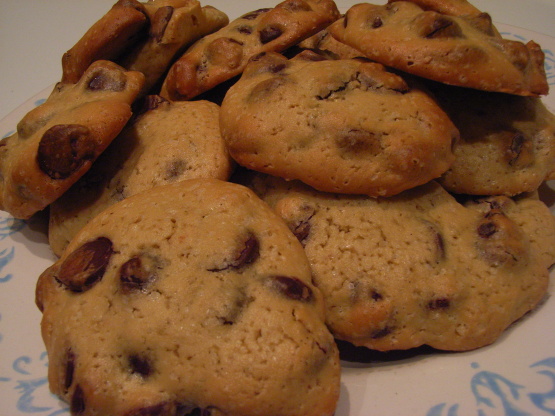 Can't remember the book this recipe came from but this recipe makes nice soft cookies.

This is a very nice and chewy cookie as the title says. I did find them a bit sweet - maybe because of the three types of sugar but tasty nonetheless. I halved the recipe and still received 32 cookies using a small cookie scoop. Very easy cookie to throw together even with the 30 minute chill time. Found and made during ZWT7.
Preheat oven to 350 F and grease 3 cookie sheets.
In a large bowl sift together flour, tartar, baking soda, and salt. In another bowl beat together butter and sugar, then beat in brown sugar and corn syrup untill well blended. Beat in eggs one at a time and then vanilla. Gradually beat in the flour mixture. Stir in chocolate chunks.
Chill dough for at least 30 minutes! Drop dough by tablespoon onto greased cookie sheets and bake for 9-12 minutes.