Shasha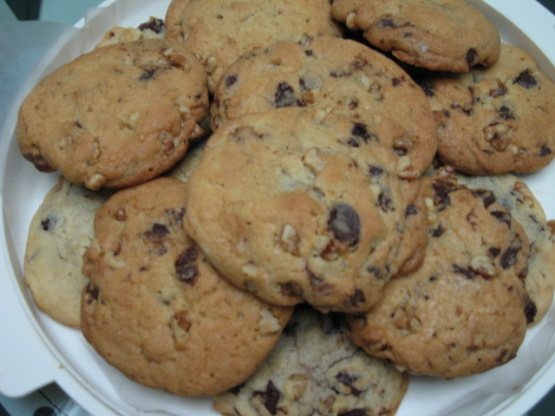 Off a Golden Crisco package. WOW! Are these good! My husband and I couldn't stop eating (I'm ashamed to admit). We omit the nuts, as our daughters are allergic to peanuts (and it is difficult to find nuts that are not cross-contaminated).

These brownie cookies were incredible! Mine turned out nothing like the picture - they were DARK, more like a brownie.<br/>I've had them out of the skillet for about an hour and they have stayed nice and chewy, and they are very sweet. Unless you have a mean sweet tooth, I would recommend cutting down on the sugar. I used about a half a cup of chocolate chips and I didn't miss the extra. The cookie itself is so chocolatey, it would be excellent plain. The walnuts add a nice texture and crunch. Any kind of Crisco shortening would work just as well; I used all vegetable without any problems. This will probably be my go-to cookie recipe now :)
Preheat oven to 180°C (350°F).
Combine Crisco, white sugar, brown sugar and vanilla in a large bowl.
Beat with mixer on low speed 1 minute or until creamy.
Add beaten eggs.
Combine flour, cocoa, baking soda and salt.
Add to creamed mixture alternately with milk, beating on low speed about 1 minute, or just until blended.
Stir in nuts and chocolate chips.
Drop by heaping spoonfuls* (about 2 TBSP for each cookie) on ungreased cookie sheet.
Bake cookies, leaving about 7cm (3-inches) between cookies for spreading.
Bake at 180°C (350°F) for 10-12 minutes.
Cookies wil appear soft and moist when baked, but firm upon cooling.
Cool 2 minutes, then remove to cooling rack.
*Smallercookies can be made using 15mL (1 TBSP) dough for each cookie; Bake 8-10 minutes; makes about 6 dozen cookies.