lilchris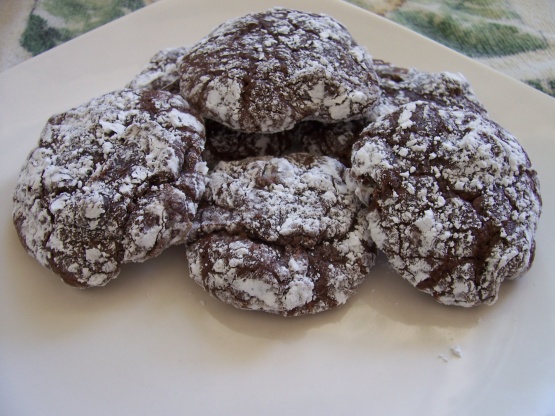 My mommy's group had a cookie bake-off for the holidays last Christmas then exchanged recipes. I thought these cookies were really really yummy and needed to input it (finally--6 mos later) before I lost the recipe! Hope you enjoy.

I substitute toffee chips for the nuts in these and whenever I give them to someone new I get begged for the recipe. SO GOOD. I think the people who had issue with the batter being runny might have used the wrong sized mix. The ones that are around 19oz are usually labled 'Family Size' or '9x13'. Everytime I've made these it's been so thick I had to use my heavy-duty wooden spoon to stir.
1

(19 ounce) package brownie mix
1⁄2 cup flour
1⁄4 cup oil

2

eggs

2

tablespoons water

1

cup semi-sweet chocolate chips
1⁄2 cup chopped pecans (optional)
In a large bowl, combine brownie mix and flour. Add oil, egg, and water; mix well. Add chips and nuts.
Roll dough into 1 1/2 inch balls. Roll in powdered sugar. Place 2 inches apart on greased baking sheet.
Bake in preheated 350 degree oven for 12-15 minutes or until tops of cookies begin to crack. Do not over bake. Immediately remove to cooling rack. Cool before serving (if you can restrain yourself).