Chewy Apricot Coconut Bars (Diabetic)
Annacia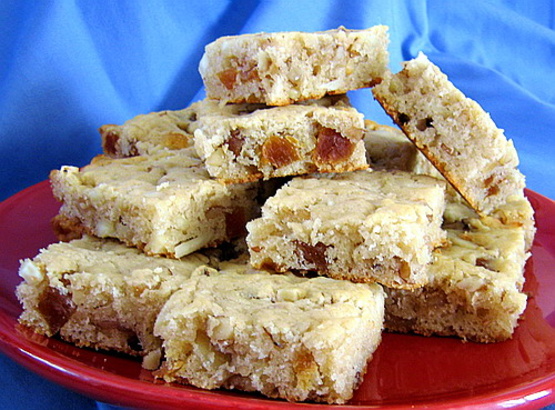 This is a variation on my CHEEZY POTATOE SOOP. Came up with this in order to use up some extra dried fruit and to make sure my trays this year looked a little different from prior offerings.

Thank you toni for a grand treat, I was into making these when when I remembered that I had used all of the coconut on something for DH. As I didn't feel like walking to the market in the snow for it I used 2/3 cup of flour to add some bulk and help hold it together. They look a bit different than yours but they taste wonderful and have a lovely flaky bottom side.
Preheat oven 350 degrees.
Using a mixer, beat eggs, Splenda and almond flavoring in medium bowl. Blend in in margarine and vanilla.
Measure out the flour and combine 1 tablespoon with the diced apricots to get the fruit to separate into bits.
Combine the rest of the flour with the baking powder and salt in small bowl. Stir into egg mixture. Fold in coconut, hazelnuts or almonds, and floured apricots.
Spread batter evenly in greased 8-inch square baking pan.
Bake until browned and toothpick inserted in center comes out clean, about 20 minutes. Cool in pan on wire rack.
Cut into squares.