Pneuma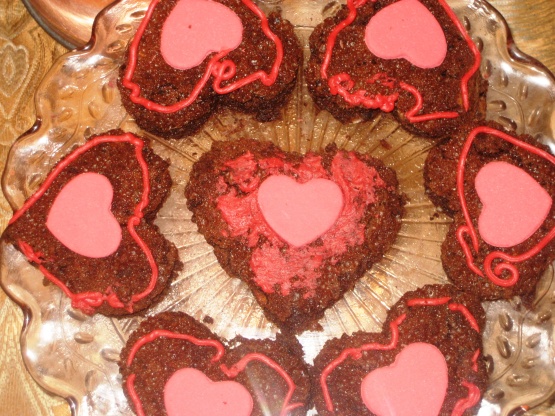 Doesn't get any better than this, chewy, fudgey little morsels of delight. Sure to please the chocolate lover! For those of you having issues with brownies being too sweet or not chocolaty enough; try using a quality semi-sweet chocolate in bar form & fresh butter. If you use run-of-the-mill chocolate chips & old butter then your brownies will taste run-of-mill and old.

Dy--no---mite! These are so moist & chewy! Very easy to make, I made them last nite before supper & they were a huge success. Toasting the nuts makes a world of difference in the final out come! I actually have a set of measuring spoons that measure pinch, smidgen, & dash! Never thought I'd use them. Great Brownies Steve!
Preheat oven to 350°F.
Toast nuts on a foil lined sheet pan until fragrant, about 7 minutes.
While nuts are toasting break chocolate up into small pieces and place in a medium microwave safe bowl with the butter. Melt Butter with chocolate in the microwave, about 2 minutes at 50% power. Stir and continue to microwave at 50% power as required, stirring every 60 seconds. This can also be done over a double boiler.
Let allow chocolate mixture and roasted nuts to cool.
Meanwhile lightly beat eggs and vanilla in a small bowl and prepare a pan, 8 x 8 for thick brownies and 13 x 9 for thin ones. Line pan with foil or parchment and grease. Leave enough lining overhanging to lift the brownies out of the pan when complete.
In a heavy duty plastic bag smash nuts with a rolling pin until well crushed, add remaining dry & optional ingredients - shake to combine.
Slowly pour egg mixture into chocolate while stirring, mixture will thicken slightly.
Add dry ingredients in three batches, stir with a wooden spoon and ensure that each batch is fully incorporated before adding the next. Spread mixture into prepared pan with an angled spatula or a large spoon.
Bake the 13 x 9 pan for 30-35 minutes, the 8 x 8 for 45-70 minutes Or until a toothpick inserted in the center of the pan comes out just slightly moist. Cooking time varies all over the place depending on type of pan and your oven. I use natural aluminum pans, have a calibrated thermometer and keep a pizza stone in the oven for consistency. Whatever you do to insure that that you don't over cook, simply start checking when they start to smell like brownies! You can rotate the pan halfway through the cooking process to even things out if desired.
Cool in the pan on a rack. Remove from pan by lifting foil liner, place on a cutting board and cut into squares.