Chevy's Salsa - Original Recipe
Terri K.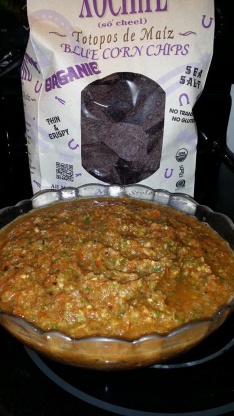 My buen amigo Pablo works at Chevy's and was nice enough to share this with me. He said you can adjust the number of peppers to you "heat" liking. There is no liquid smoke added like other knock offs claim. The key to the smokey flavor is the char-grilling that takes place first.

Top Review by jaclo
The real deal!!!! I used to much garlic, and made it to spicy but, it was so close. The black pepper is the missing link!!! It smelled just like the real deal!!! I've been trying for years to copy this,, thanks so much! You're right, the popular recipe on the web w/the liquid smoke is a joke, not even close. You rule! Note I only used 1 teaspoon of salt.
Grill on open flame tomatoes, onion and jalapeno pepper.
Remove when slightly chared and tomatoes soften and split.
Remove from grill and let cool.
Drain accumulated liquid.
Remove stems from jalapenos and end core ends of tomatoes.
Place tomatoes, onions, jalapeno pepper, and all remaining ingredients into blender.
Blend until desired consistancy (approx 10 seconds).
Pour into container and chill.
Serve and enjoy with your favorite chips.