Chevre Cheese Stuffed Mushrooms
Parsley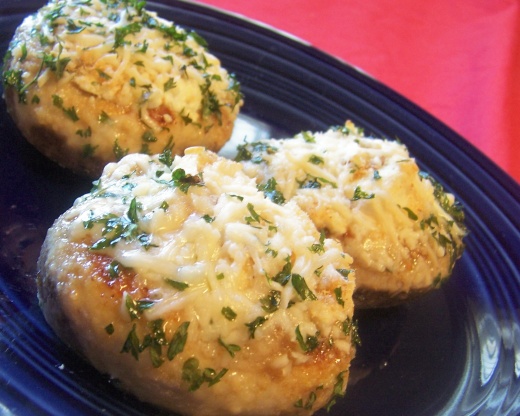 These differ slightly from the more conventional mushrooms which are stuffed mostly with dry ingredients. This has a creamy base which is lovely. I have substituted mild blue cheese, and also boursin for the Chevre, and that is also wonderful.

Tasty little morsels these are, and so easy to make. Thank you for sharing.
10

ounces stuffing mushrooms
1⁄4 cup butter

4

ounces chevre cheese or 4 ounces other mild goat cheese
1⁄4 cup seasoned bread crumbs

2

tablespoons shredded parmesan cheese
Clean and remove cap from stuffing mushrooms.
Melt butter in frying pan and saute mushrooms until they lose some of their water. Remove mushrooms to a small cookie sheet and cool slightly.
Fill the cavity with a spoonful of Chevre. Sprinkle top with breadcrumbs. Dust tops with parmesan cheese.
Bake in 350° oven for 20 minutes or until cheese is melted.