Chevre and Sun-Dried Tomato Chicken
Luschka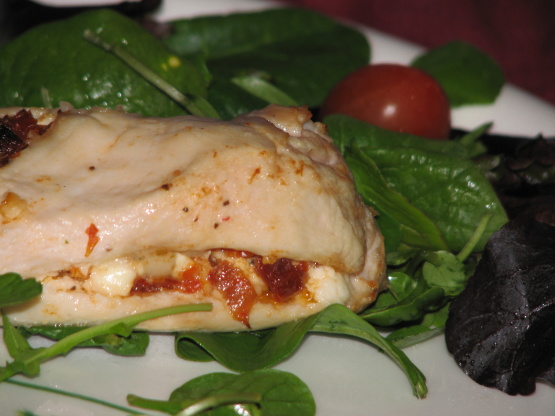 Especially delicious way to prepare chicken and your family and guests will think you are a gourmet! This is also a lovely meal for two if you reduce the amounts accordingly.

This is simply amazing! So quick and easy and absolutely beautiful flavour. I didn't have chicken with skin on, so I just cut a slit in the chicken and stuffed it in the middle and it was so tasty! There just isn't resemblance between the ease and the taste! This definitely goes in my favorites folder! Thanks for posting! Reviewed for Photo Tag Winter 2008
Preheat oven to 375F (190C). Drain tomatoes, saving 1 tablespoon (15 mL) oil.
Finely chop tomatoes and stir into goat cheese.
Using your fingers, tuck a rounded tablespoon between skin and meat of each breast and push to centre of breast.
Then, using your palm gently press down on chicken skin until cheese is evenly distributed under skin.
Rub a little more of cheese mixture on skin for a great-tasting chicken skin.
Place breasts skin-side up in a single layer on an ungreased 9x13-inch (3-L) baking dish.
Drizzle with 1 tablespoon (15 mL) oil from tomatoes and use your fingers to spread evenly over skin.
Roast in centre of 375F (190C) oven, basting occasionally with pan juices, until skin is richly golden and chicken feels springy, from 50 to 60 minutes.
Skim fat from pan juices and discard. Drizzle pan juices over chicken.