Chestnut and Bacon Risotto With Savoy Cabbage
Leslie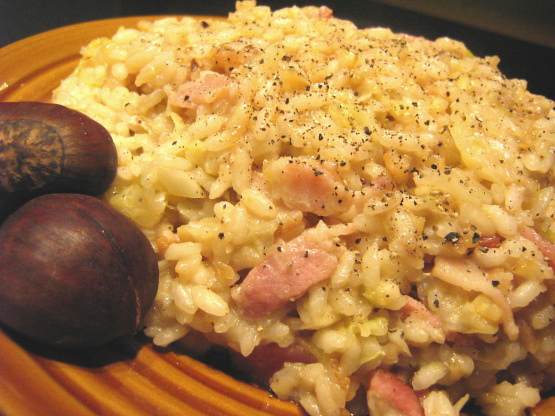 This combination is so autumnal. Roast your own chestnuts if you wish or you can buy cooked vacuum-packed chestnuts at specialty stores. This is rich, filling risotto from Food and Drink. This will serve two as a main course, or four as a side dish. :)

Superb recipe !!! I had to amend the amounts though, as I felt that the amount of rice was not enough to feed a family of four. No vermouth either, but white wine does the trick as well ! Taste-wise, the mixture of chestnuts and cabbage against the white backdrop of rice makes it look good and taste fabulous. Certainly a top-drawer recipe !
Pour the chicken stock into a saucepan and bring to a boil.
Meanwhile, heat the oil in a medium saucepan.
Add the bacon, onion and celery, cooking gently until the onion is translucent and the bacon is cooked.
Add the rice and stir so that the rice becomes coated in the oil.
Add the vermouth and stir until the rice has absorbed all the liquid.
Now add a ladleful of stock and continue to stir until all the liquid has been absorbed.
Continue this process for 15 minutes, adding stock by the ladleful.
Then add the chestnuts and cabbage and continue to cook, adding stock by the ladleful until all the rice is creamy but still has bite - about another 5 minutes.
Season with salt and pepper, then stir in the butter.
Divide between serving bowls and pass the Parmesan cheese.